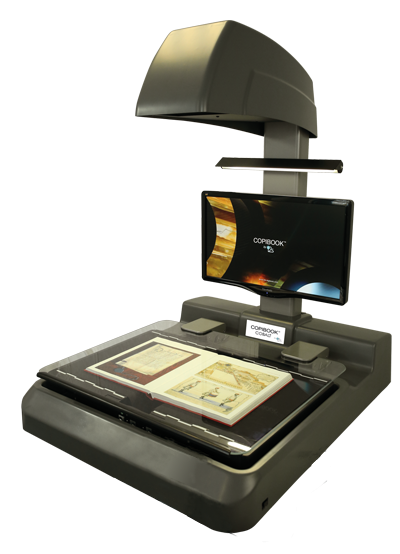 COPIBOOK Cobalt HD
The CopiBook™ range has been the best reference of stand-alone A2 fromat book scanners for the last decade when it comes to digitizing bound documents up to DIN A2 format. CopiBook Cobalt HD achieves the highest level of productivity, image, quality, ergonomics, reliability and document preservation.
Specification
What are the strengths of CopiBook™ HD over competitors?
Image Quality
140 Mpixels i2S camera, depth of field > 5 cm, ΔE < 5 .
Productive
Cycle time < 8 s in color (600 x 600 dpi optical on A2).
Versatile
Book holder for fragile books.
Ergonomics
Fully optimized user's operations and manipulations.
Design
Fully optimized user's operations and manipulations.
Compact
Stand-alone solution with workstation included.
Easy to use
Fully automatic calibration and intuitive interface.
Transportable
Quick assembly and specific rolling crate to go inside customer room.
Item Details
LED lighting bar No UV, no IR Long life lighting No shadow nor reflection on the document Controlled by CopiBook software
CCD camera with matrice sensor From 200 to 600 dpi on A2 COPIBOOK Cobalt HD: Optical resolution: 600 x 600 dpi Scan time for A2 format at 600 dpi: 7,7 s in color and 5,5 s in greyscale No mechanical shutter: long-life cycle camera. No Bayer filter: full sensor resolution for R, G & B channels. Real-time preview. Fully automatic focus, black and white balance, calibration, auto-exposure Document format automatic detection Same speed whatever the document format.
The book cradle covers document formats up to 420 x 640 mm (16.5 x 25.2"). The maximum thickness is 10 cm for a maximum of 10 kg (3.9" / 22 lbs). Motorized up and down motion. Self-opening embedded glass with very safe pressure adjustment. Automatic capture when pulling down the glass. 90° glass parking position when scanning without glass.
Multi-automatic and intuitive capture modes (glass, foot switch, flip page detection). Book cradle with easy access from three sides. Sitting or standing operating mode. No aggressive light (LED lighting) A 16:9 23" HD screen for a real time optimized image quality control (optional).
COPIBOOK Assistant is a software extension that comes with COPIBOOK scanner and should be installed on a third computer. COPIBOOK Assistant is an administration software offering locally or remotely three major functions: Control and manage the configurations of one or more COPIBOOK scanners, Update the firmware, the software or the language catalogue, Control the COPIBOOK scanners for diagnosis and assistance when troubleshooting