LIMB Range Software
enrich and convert collections into digital assets
What is LIMB Range Software ?
LIMB™ is a complete content conversion solution and includes all the required tools for today's digitization projects, including project inventory, image processing, quality control, OCR, document structuring and multiple format exporting for long-term archiving, digital libraries or POD.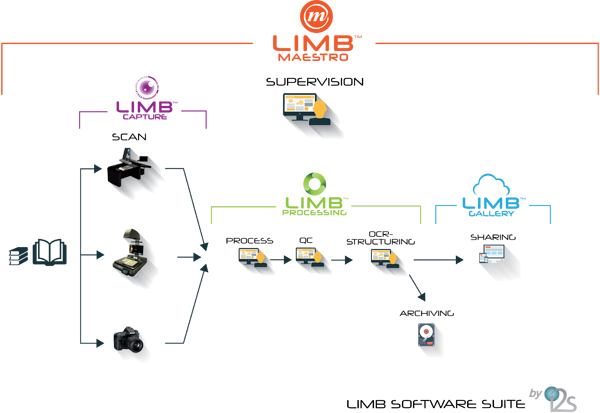 LIMB Maestro
is a unique software solution planning, prioritizing and optimizing digitization projects at a same time.
very simple to define the steps of your workflow.
Track your documents with a single scan of the book's barcode, at any time each user can see the digitization progress status.
fully manages your digitization project and in real time automatically generates activity and statistics reports.
Easily design your global digitizing process.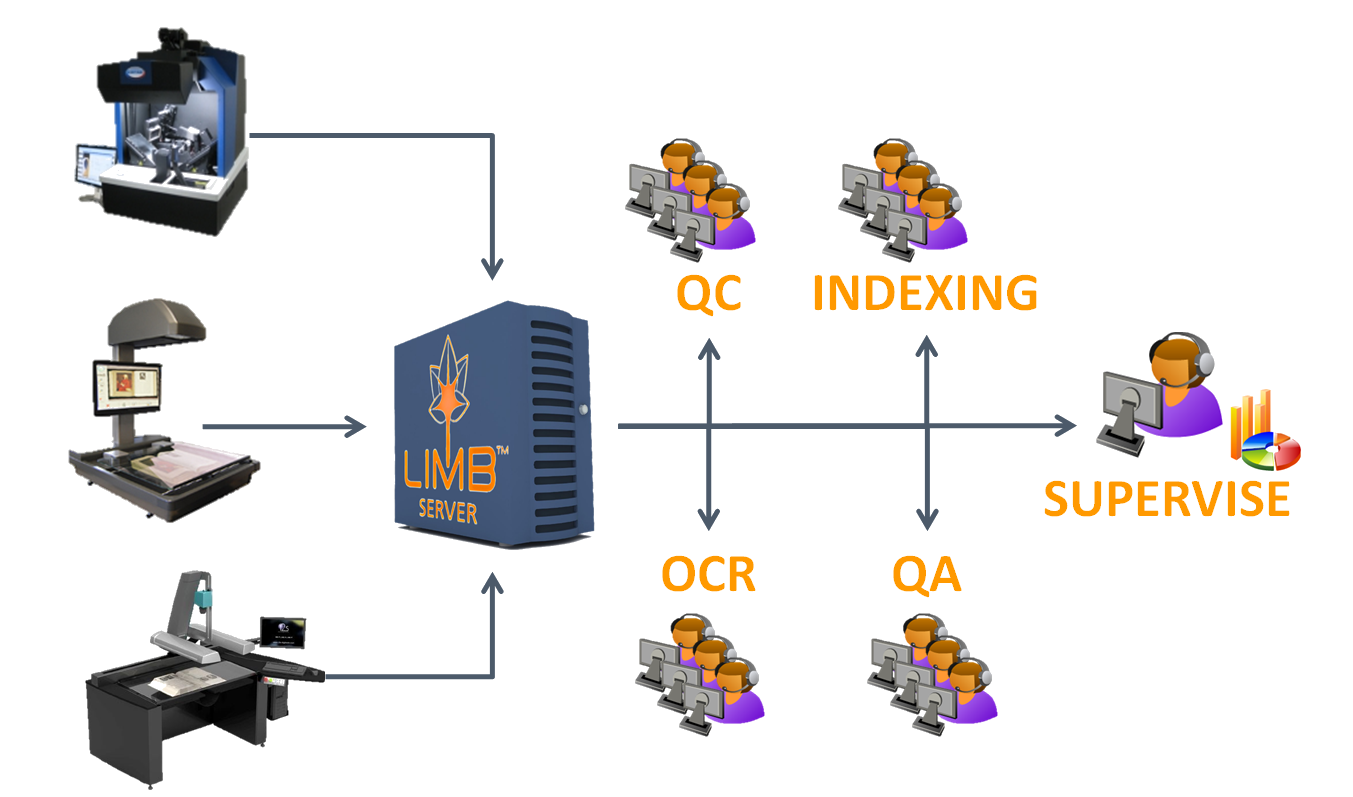 LIMB Server
is a complete solution for Mass Digitization projects, including all the tools to manage, process, enrich, index and convert your documents into digital assets for long term archiving
We have a quite large bank of experts, in every field of our Digitization Services.
We are able to shoulder all issues related to the administration, management and periodical training on a professional level
Achieve the highest productivity rate with maintaining the international standers of the quality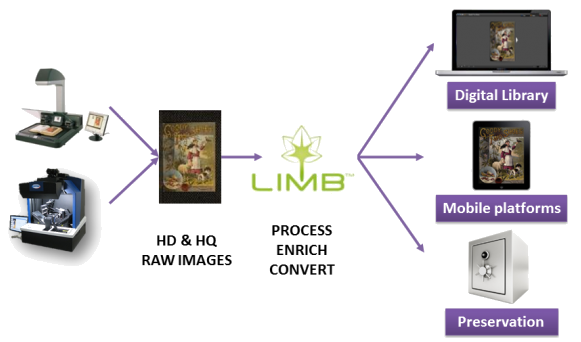 LIMB Processing
is the first application software that provides all the tools for today's digitization projects
Includes both automatic and manual image processing for common tasks.
Provides an easy to use interface for structural tagging (page numbers, covers, body, chapters, table of contents or illustrations, etc.).
LIMB Processing provides the conduit to publish your content, metadata and media files directly to your LIMB Gallery digital repository.
LIMB Gallery
LIMB Gallery, the easiest / fastest way to build and share your collections online… Simply import your metadata, media and your collection is born
Item Details
LIMB Gallery, the easiest / fastest way to build and share your collections online… Simply import your metadata, media and your collection is born.
LIMB Gallery is delivered with an eye catching user interface including several tools to guide the user to maximize the discovery of requested and related information. The overall LIMB Gallery presentation is made to be simple and clear for a rich user experience.
The LIMB Gallery user interface is fully configurable in order to adapt the look and feel to your graphical environment (logo, colors and template).
LIMB Gallery is available either as a fully hosted SaaS digital library solution (LIMB Gallery SaaS – ex-YooLib) or as an onsite solution, installed locally (LIMB Gallery).
Let the world discover your collections
Intuitive faceted search and full text search
display collections as image mosaic, timeline, geolocation or deatiled list
Eye catching document Viewer (deep zoom for large image, page flip)
Web2.0 with share tools AND collaborative tools
LIMB Gallery playlist : select, organize and export in PDF your collections and share it
LIMB Gallery SaaS (ex-YooLib) provides a fully featured online back office to manage your collections easily using a
simple web browser
Upload single or multiple contents as a batch
Create, update, enrich metadata and records
Organize your content in categories and collections
Create eye catching virtual exhibition
Viral tools: Each record is powered with social buttons to facilitate buzz, increase social reputation.
Optimized site for a good SEO (Search Engine Optimization)
Detailed statistics to measure the importance of your collections in terms of traffic
Virtual exhibition builder
OAI PMH server to supply your metadata to third party aggregators (National Libraries, Europeana, DPLA etc)
Get to know us more
We always gave you the time you need to know us more or to get more information.
Contact Us