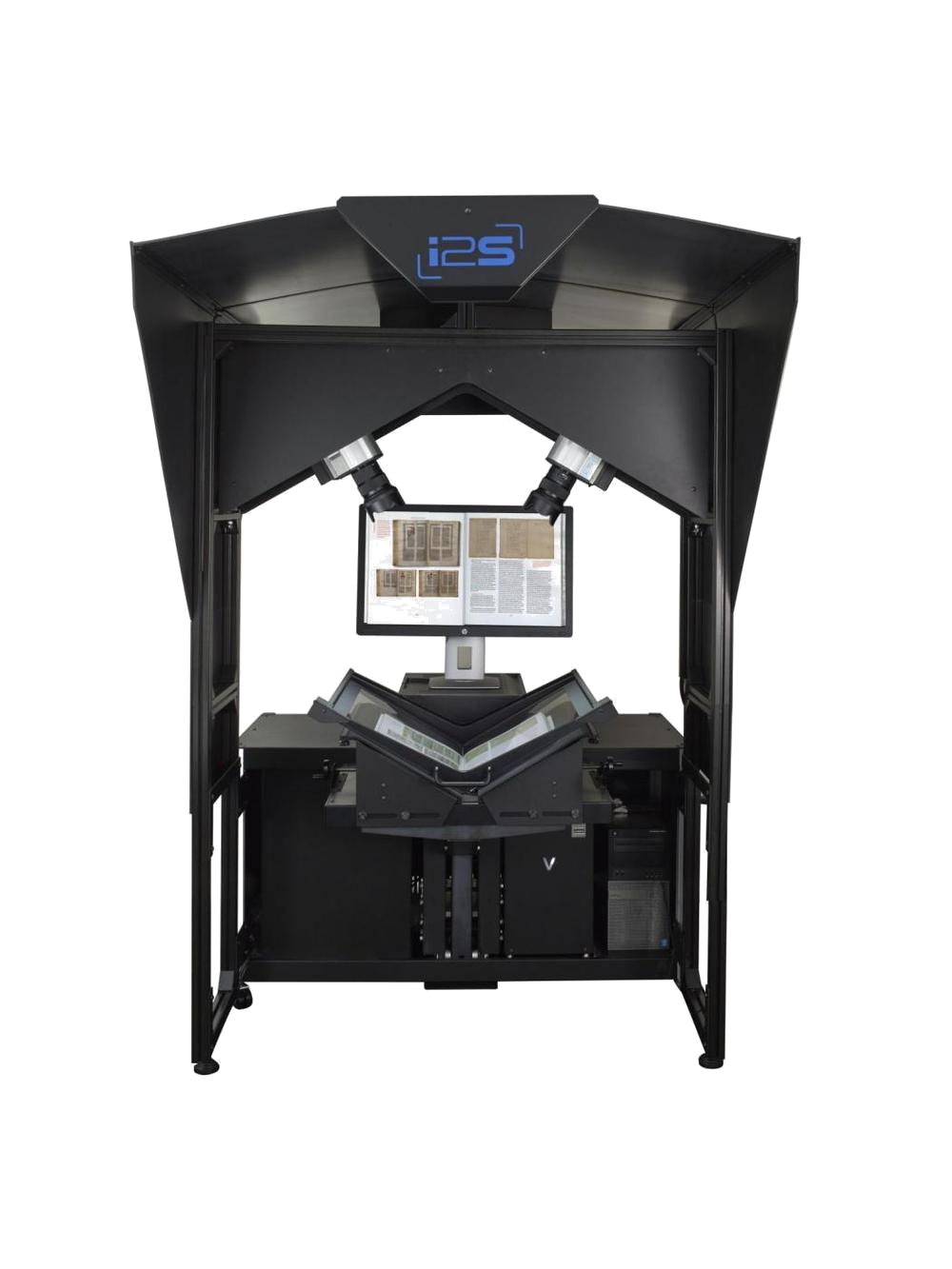 CopiBook V Shape
CopiBook V-Shape is the perfect solution to digitize fragile books maintained in V shape for harmless digitization opertations. Designed from the combination of 2 high quality i2S cameras, it guarantees high productivity and best quality of image with no glares thanks to a perfect control of the lighing.
Specification
What are the strengths of CopiBook V-shape?
Image Quality
600 x 600 dpi optical on A2, 11 lp/mm at 600 dpi; two 71 Mpixels EAGLE cameras depth of field > 5 cm.
Productive
Scan time < 1 sec, Cycle time < 3 sec, fast focus, fast data transfer.
Lighting Control
No reflections between opposite pages.
Ergonomics
Smooth glass edges, pressure sensors, hands presence detector.
Connected
Simple interconnection to the outside (USB 3).
Special Glass Plate Junction
Less than 2 mm loss in the gutter.
Modular
Also Available for up to 2 x A2 format at 400 x 400 dpi optical.
Semi Automatic
Motorized book cradle, glass moves automatically up and down, automatic book centering.
Easy to use
Fully automatic calibration and intuitive interface.
Transportable
Easy to assemble, dismantle and move.
Item Details
adjustable glass pressure on books v-glass polished with no cutting edge motorized up and down to assist the operator's work. It comes down on the book, exactly at the same position to insure constant focal distance to the cameras, and the scan is done automatically (autoscan). When the scan is done, the v-shape glass automatically moves away from the book for manual turning page. only 2 mm (0.08 in.) thinckness going deep down in the books' gutter glass goes automaticaly up if it feels any obstacle
2 high resolution i2S cameras performing at the same time (1 scan = 2 pages) up to 600 dpi optical on 2 x A3+ format
120° opening for no glare on images motorized vertical movement auto-centered book holder (right/left movement) to accomodate any book thickness up to 15 cm (5.91 in.) and weight up to 20 kg (44lb.)
2 symmetrical LED lightings fixed at the back and at the front providing no shadows in the book's binding positioned for lighting up only the scanning area and no lights in the operators' eyes
no moving parts and no mechanical shutter in the camera, fixed lighting self-balancing and motorized book cradle, pressure adjustment on glass plate