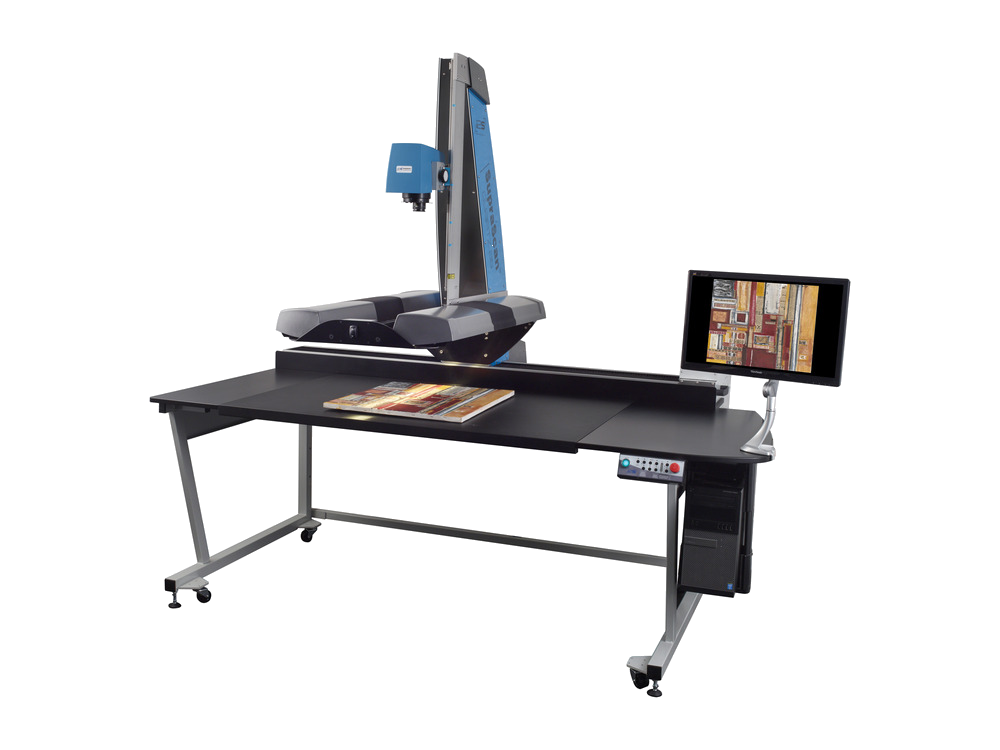 SupraScan Quartz A0 HD
SupraScan Quartz A0 HD LED is the best scanner to digitize up to A0+ format with superior image quality and productivity. Third generation of I2S A0 scanners, it enbeds a new LED lighting with a lot of benefits (no UV/IR, anti-glare feature, relief enhancement, lighting level control, no blinding effect).
Suprascan Quartz A0 HD is equipped with a brand new A0 format motorized book cradle with motorized glass plate and automations to provide better ergonomics.
Specification
What are the strengths of SupraScan™ Quartz A0 over competitors?
Image Quality
Metamorfoze Light and FADGI 3* Complaint, 600x 600 dpi optical on the whole A0 format (HD version).
Large
1350 mm x 920 mm (53.15 x 36.22 in.) > DIN A0 / ANSI E.
Gentle
Obstacle detection sensors, no lights in the operator's eyes, free from UV and IR emissions.
Ergonomic
Motorized book cradle, motorized glass synchronized with the scanner, motorized camera movement.
Versatile
Accessories : book cradle, v-shape book holder, glass plate, A0 vacuum table.
Relief
A unique lighting to enhance documents and objects relief.
Lighting Control
Exclusive glare free system to remove any reflections even on glossy documents.
Item Details
Images are compliant with FADGI and Metamorfoze image quality guidelines. Focus is motorized and automatic. No image distortion: distance and angle between the camera and the document is fixed and the camera is always perpendicular to the document.
Very long life No UV & IR Relief enhancement system. Exclusive glare free system Lighting below the operator's eyes level. Lights only during scan only RELIEF ENHANCEMENT SupraScan™ Quartz A0 HD LED has the ability to digitize using only one lateral light (right or left). This exclusive feature allows you to enhance the relief of documents or objects and give a better value to your images. NEW BOOK CRADLE BC 40 A0 SupraScan™ Quartz A0 HD LED can be equipped with the new motorized book cradle BC 40 A0 (with motorized A0 glass plate): scanning area 1250 x 860 (49.21 x 33.85 in.); document thickness 40 cm (15.75 in.) max.; document weight 40 kg (88.18 lb.) max.; similar to Roberval balance with electrical commands (up and down); glass plate with automated pressure control on the book, can go up to 21 cm (8.27 in.) above the book, glass synchronized with the scanner; security sensors detecting obstacles.
An easy to use GUI (Graphical User Interface). Multiple saving frames with customized outputs. Thumbnails flow to check/delete/add/insert images. Production environment: login, metadata tagging, METS outputs… Operates on Windows 7, 64 bits platforms.
Automatic calibration mode (assisted and manual modes also available). Batches of image processing and compression. Automatic and real-time image quality control. Easy integration into workflow solutions. A remote maintenance function.
SupraScan™ Quartz A0 offers you the largest scanning size on the A0 book scanners market with a maximum scanning dimension of 1250 x 870 mm (49.0" x 34.2").